Productivity at the service of life.
Today we often confuse busyness with productivity. But action does not always equal progress.
When productivity is measured merely by efficiency, output, and speed—it's no wonder we often experience lives of anxiety, disconnection, and exhaustion. Life isn't about getting to the end faster, it's about being there the whole time—engaging each moment and doing our most important work.
At Monk Manual, we view work as a means to personal growth and fullness. We see everyday life as an exhilarating process of discovering and being discovered.
True productivity means investing our time in life's most important work, building meaningful connections with the people around us, and being a force of creativity in the world. And we've discovered that Monks are the perfect people for us to learn from.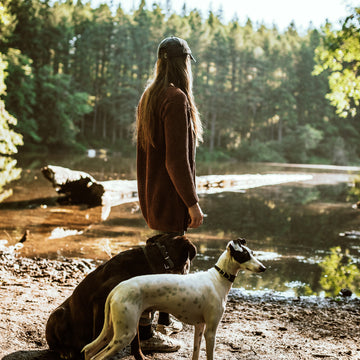 OUR MISSION
We're on a mission to fix modern productivity and help people live full(er) lives. Inspired by the wisdom of monks, and rooted in psychology, we design practical tools for peaceful being and purposeful doing.

A MOVING MONASTERY
Our logo's original inspiration came from our founder's 6 year old son. He had drawn the symbol for "camp" from the Great Plains Indians. Unlike other tribes which built their homes in set physical locations, many of the Great Plains tribes were always on the move, bringing their place of home with them wherever they went. 
Home for monks is a monastery. Monasteries around the globe represent a place of peace, purpose, transcendence, connection, and creativity. 
While the Monk Manual logo has evolved and taken on additional meaning, the original "camp" symbol represents a fundamental pillar to our work—the simple belief that all of us, no matter our life circumstances, have access to greater peace, meaning and presence. While we may not be able to move to a monastery, we can bring the monastery with us wherever we go.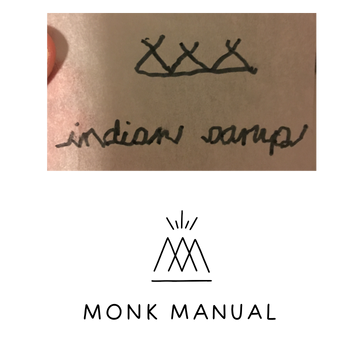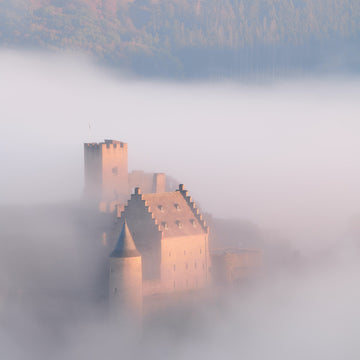 Another Way of Life
We find a radical way of living in monasteries. A way that flips contemporary thinking on its head. Where the world says focus on more, the monk says focus on less. Where the world seeks to master outcomes, the monk seeks to master self. Where the world fills our lives with noise and distraction, the monk fills their life with quiet and focus. Where the world pursues a life of independence, the monk pursues a life of trust, walking the path of life with God and others. Where the world medicates, the monk meditates.
YOU DON'T HAVE TO BE A MONK TO LIVE LIKE ONE.
Our Community
The most intentional people are the ones who change things. They are the ones who transform their families, communities, institutions and countries—starting with themselves. Monk Manual is grateful to serve an incredibly diverse group of the most intentional people in the world. Our members come from every creed and color but are united along a single purpose, that of living a full(er) life.
We believe every life can be a creative force for good. Our community is disproportionately made up of people who agree.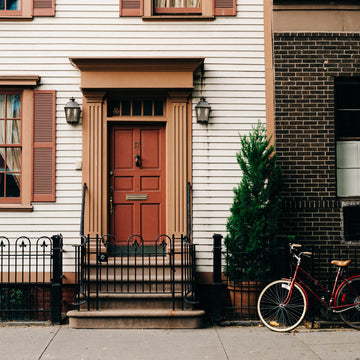 Dear Reader,
When I was 12, I dreamt of being an animator, and in many ways that is still my dream—to create tools and resources that can animate the human spirit and bring about transformation in the life of individuals, families and communities.
I believe that modern productivity thinking is fundamentally broken. We have countless good answers to the wrong questions, and as a result have built our lives at the altar of doing, often at the sacrifice of being. But being and doing aren't mutually exclusive, in fact it is through their integration and mutual cooperation that we find a path to full(er) living. Monks show us this way of life is possible, even for those of us living in a busy world.
While I am not a monk I sincerely believe the solutions to many of our current personal and communal tensions and crises can be found through the simplicity, reflection, and wisdom of monks. My hope is to reimagine what is possible for the human experience through the system of monasticism. To provide tools and resources that lead individuals to a greater sense of peaceful being and purposeful doing.
What surprises me daily is the goodness in the people I meet through this work. I am grateful everyday that I am able to serve the people of our community. My team started a Facebook group to bring these incredible people together. If you would like to, you can join us here. I hope it will prove as fruitful for you as it has for me.
I look forward to journeying alongside you towards a full(er) life.
Steven Lawson
Monk Manual Founder
choosing a selection results in a full page refresh
Translation missing: en.general.accessibility.selection_help