A 90-day guided journal inviting children to discover who they are and sprout an amazing, purposeful life.

Through daily reflection, the Sprout Journal is designed to help kids...
Grow in self-awareness

Live each day with greater peace and purpose

Build lifelong habits of gratitude, self-growth, and generosity
SPECS

5.5 in x 8.5 in
90 Daily Reflection Spreads
12 Wisdom Principles Spreads
Separate Habit Builder Bookmark
Vegan Leather Cover
Blue Silk Ribbon
224 Pages
100 GSM Acid-Free Paper
Inside Back Pocket
OUR GUARANTEE
All Monk Manual products are covered with our simple satisfaction guarantee. If you are not satisfied with your product, for any reason, send it back to us within 365 days for full refund of the product. Learn more here.

Help children root their lives in meaning and deep connection through a daily practice of reflection.
CULTIVATING THE INTERIOR LIFE
Every mighty oak tree begins as a humble acorn. Similarly, every child holds a unique and amazing potential that needs to be nourished and cultivated.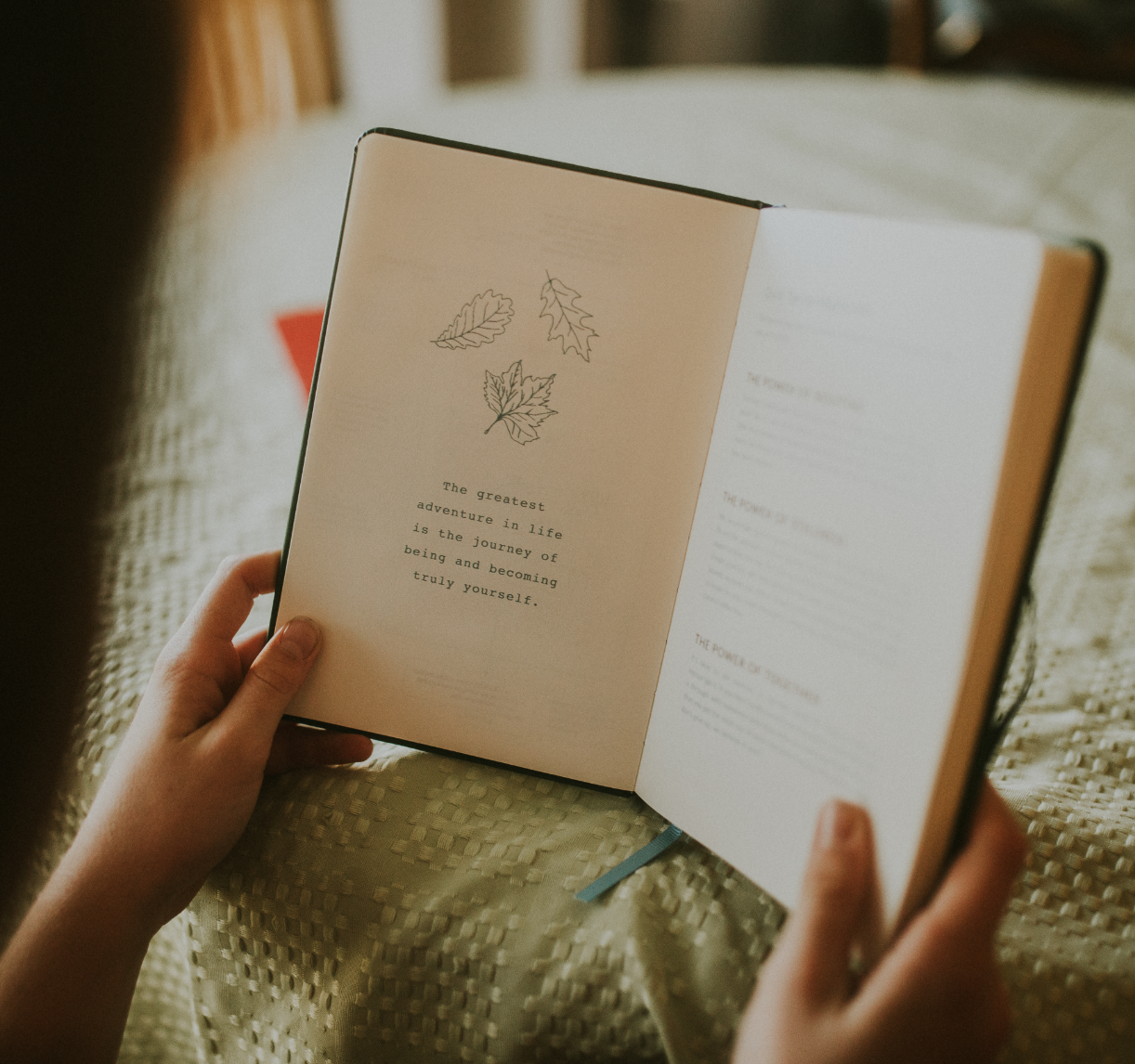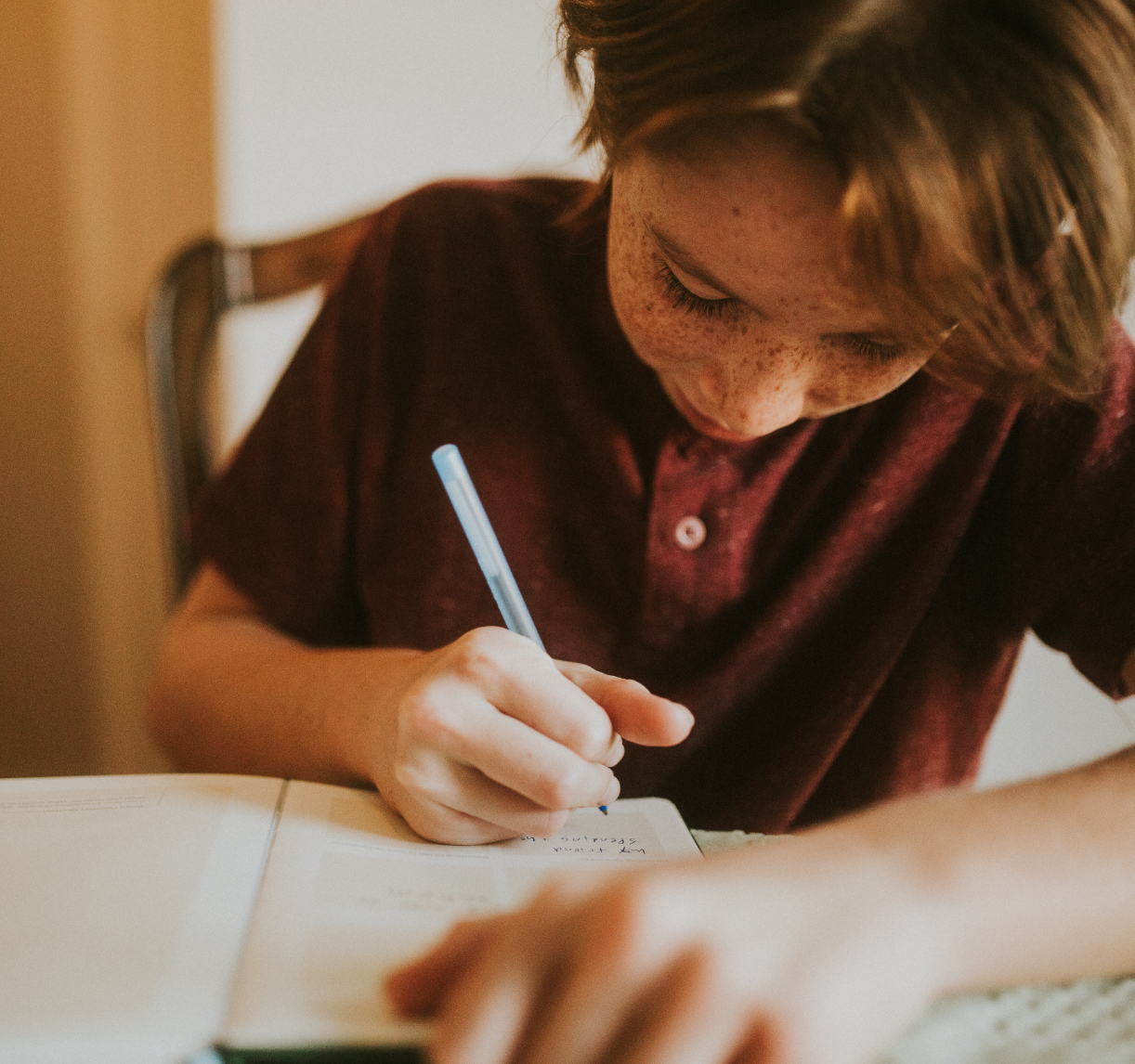 THE POTENTIAL OF A CHILD
By giving children the tools they need to be still, be thankful, and take time every day to get to know themselves and their inner world, we can help them grow in confidence, wisdom, and love.
For creative children hoping to bring their wonderful ideas to the page.
For anxious children hoping to find space each day for restful reflection and centering peace.
For reflective children hoping to discover who they are, what matters most, and who they want to become.
For curious children hoping to explore their inner worlds and make their unrepeatable mark on history.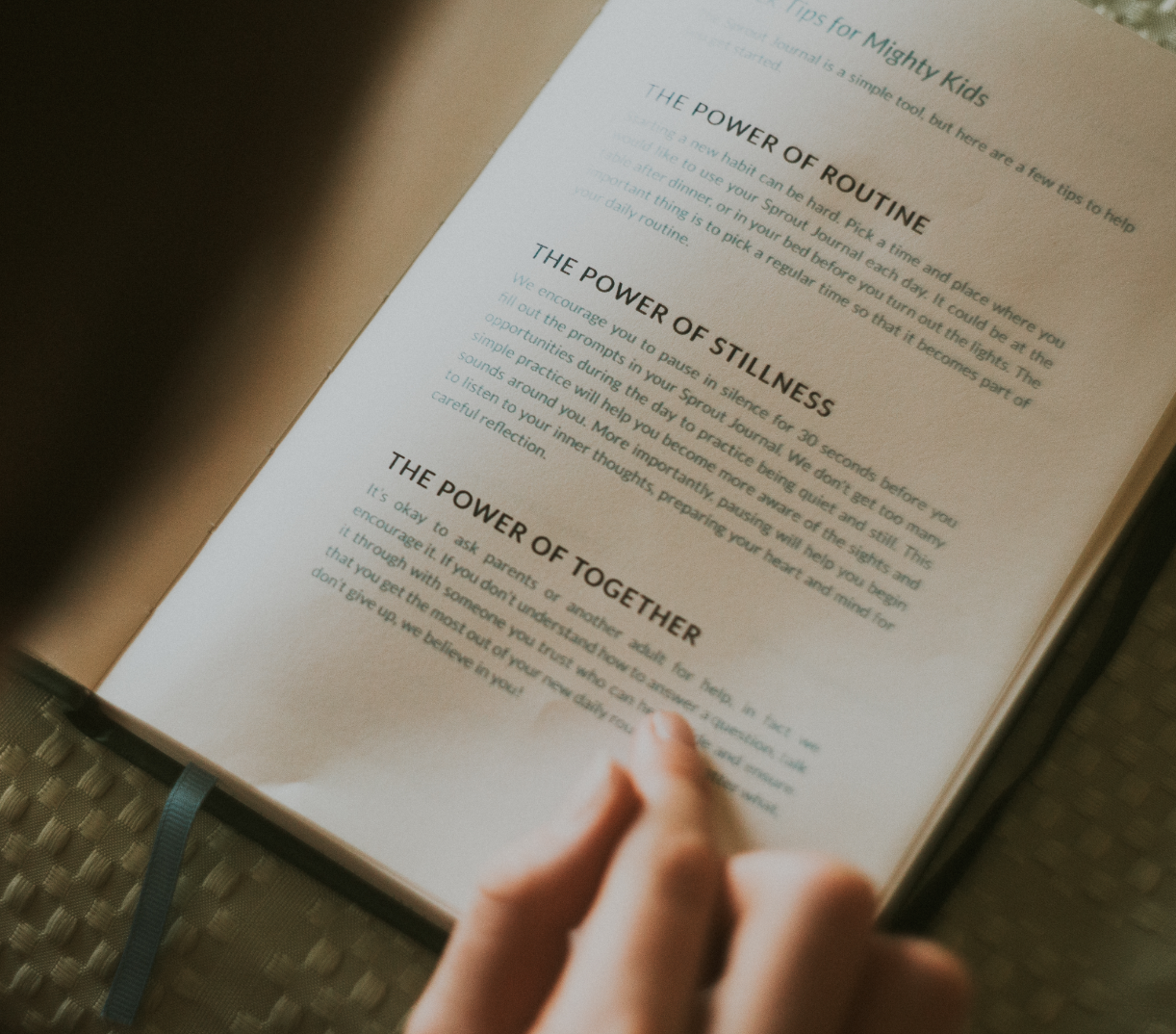 "The greatest good you can do for another is not just to share your riches, but to reveal to him his own."
The Sprout Journal is built on the natural cycle of human development:
TO KNOW
Grow in self-awareness every day.
TO GROW
Develop strong character and healthy habits.
TO GIVE
Cultivate compassion, creativity, and generosity.
Designed for kids ages 8–12 and can be used by kids as young as 5 with the support of a parent.
90 Daily Reflection Pages
Daily Creative Space
Weekly Reflection Pages built on 12 character-based principles
Habit Builder for building positive habits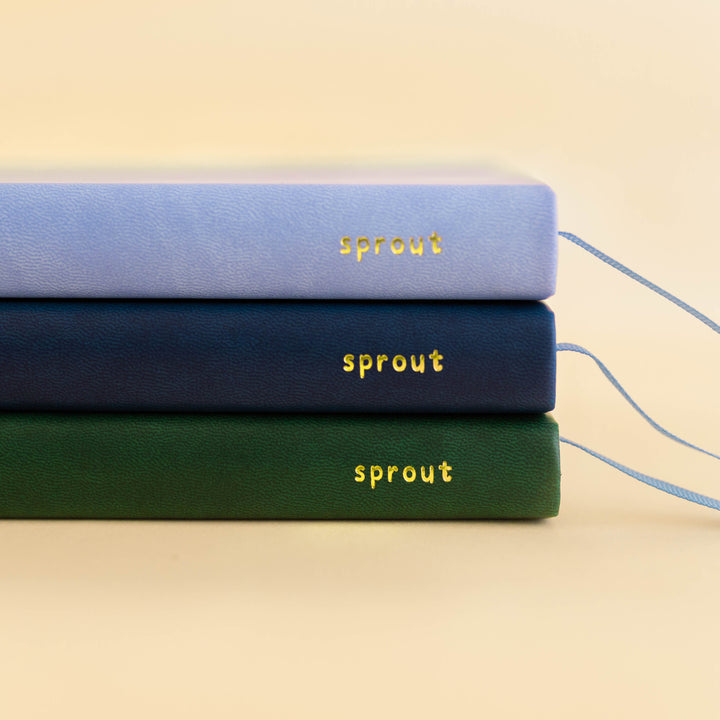 "We may not be able to prepare the future for our children, but we can at least prepare our children for the future."
DAILY REFLECTION
Taking 5-10 minutes at the end of each day for quiet reflection can instill life-long habits of gratitude, self-awareness, rooted confidence, continuous growth, compassion and generosity towards others.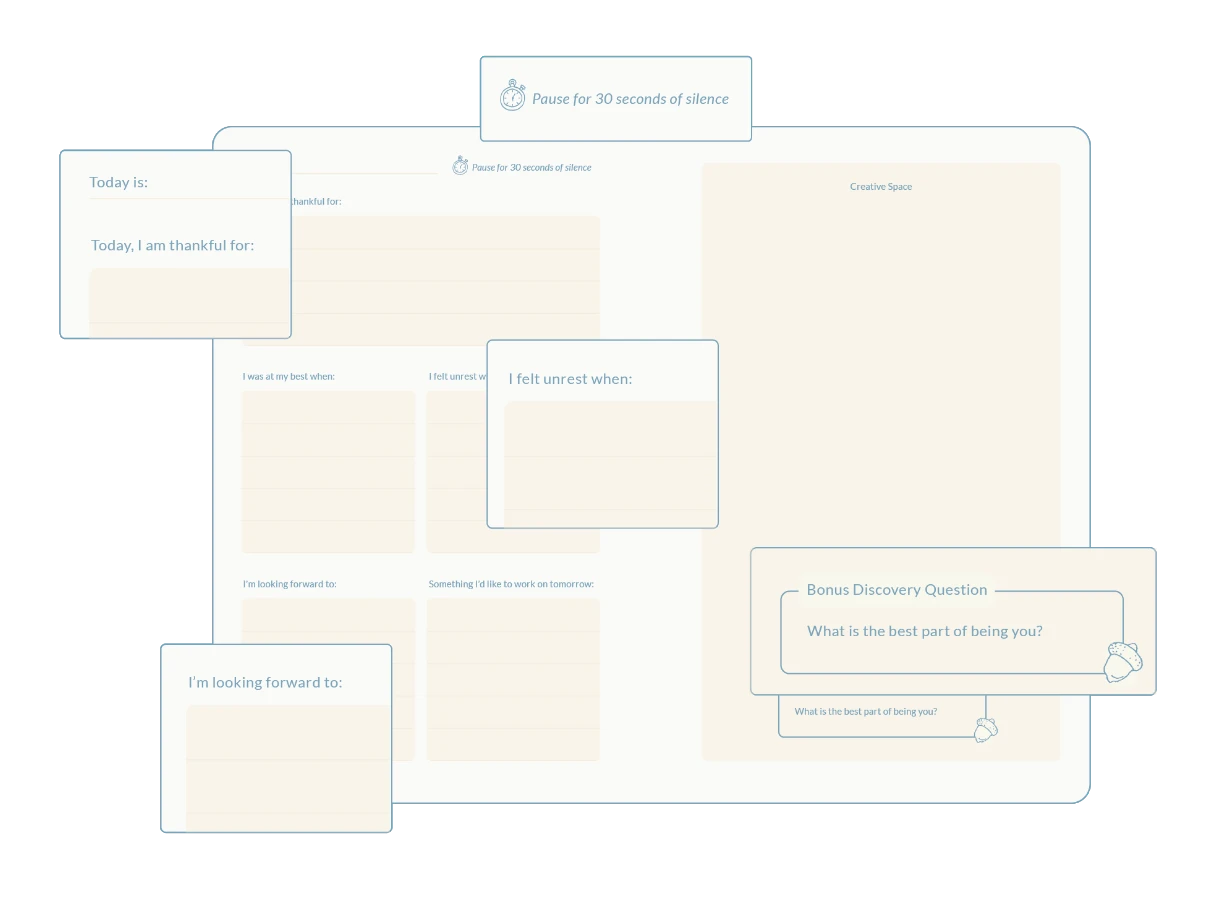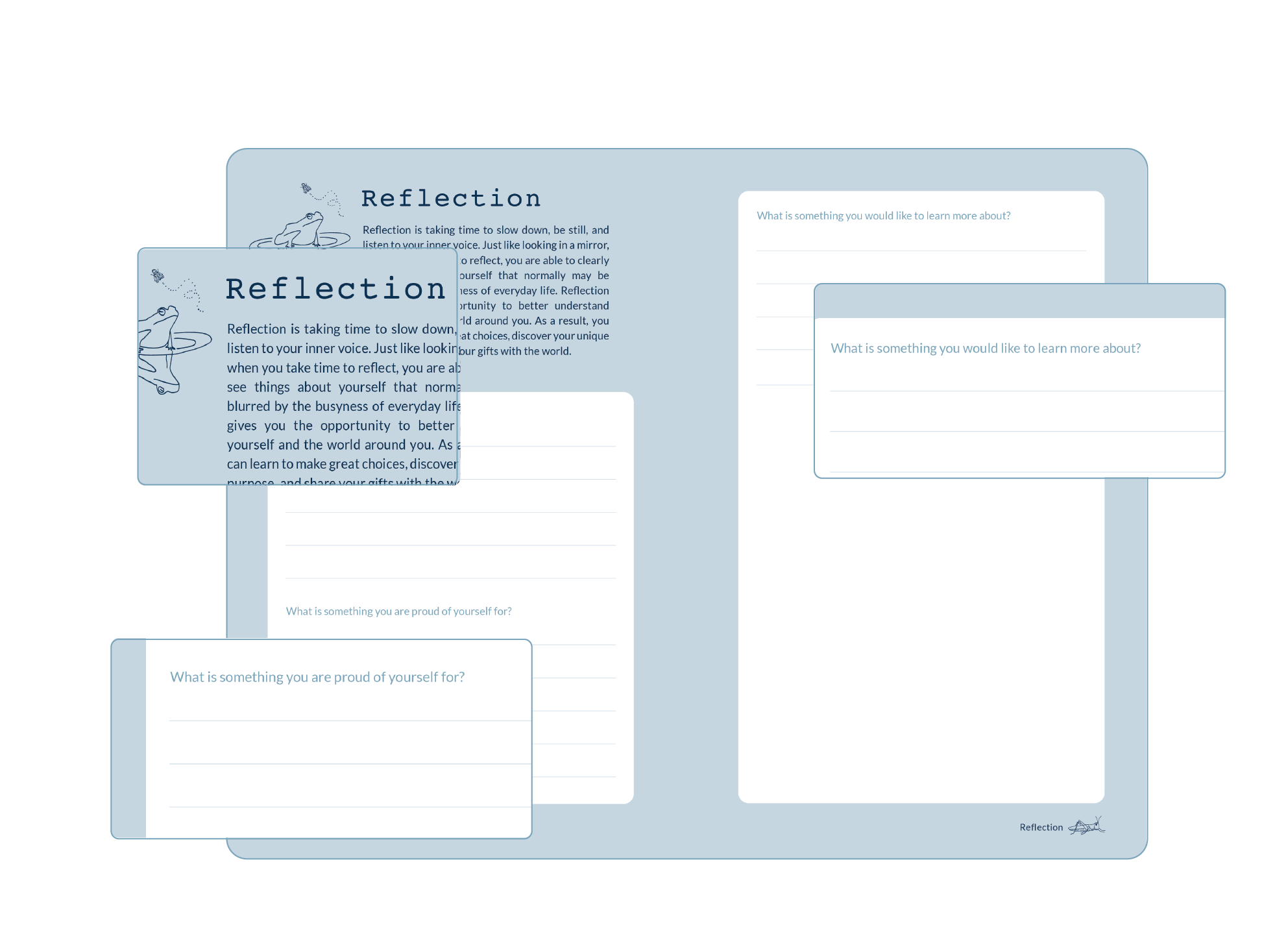 PRINCIPAL PAGES
Throughout the Sprout Journal are 12 character-based lessons that can guide kids as they grow. These are timeless principles that people throughout history have practiced to live happy, peaceful, and meaningful lives. 
HABIT BUILDER
Healthy habits are important. From maintaining healthy hygiene to practicing patience daily, parents are often looking for new ways to inspire their kids to build healthy habits. With the Habit Builder bookmark, they can track their progress as they experience meaningful growth.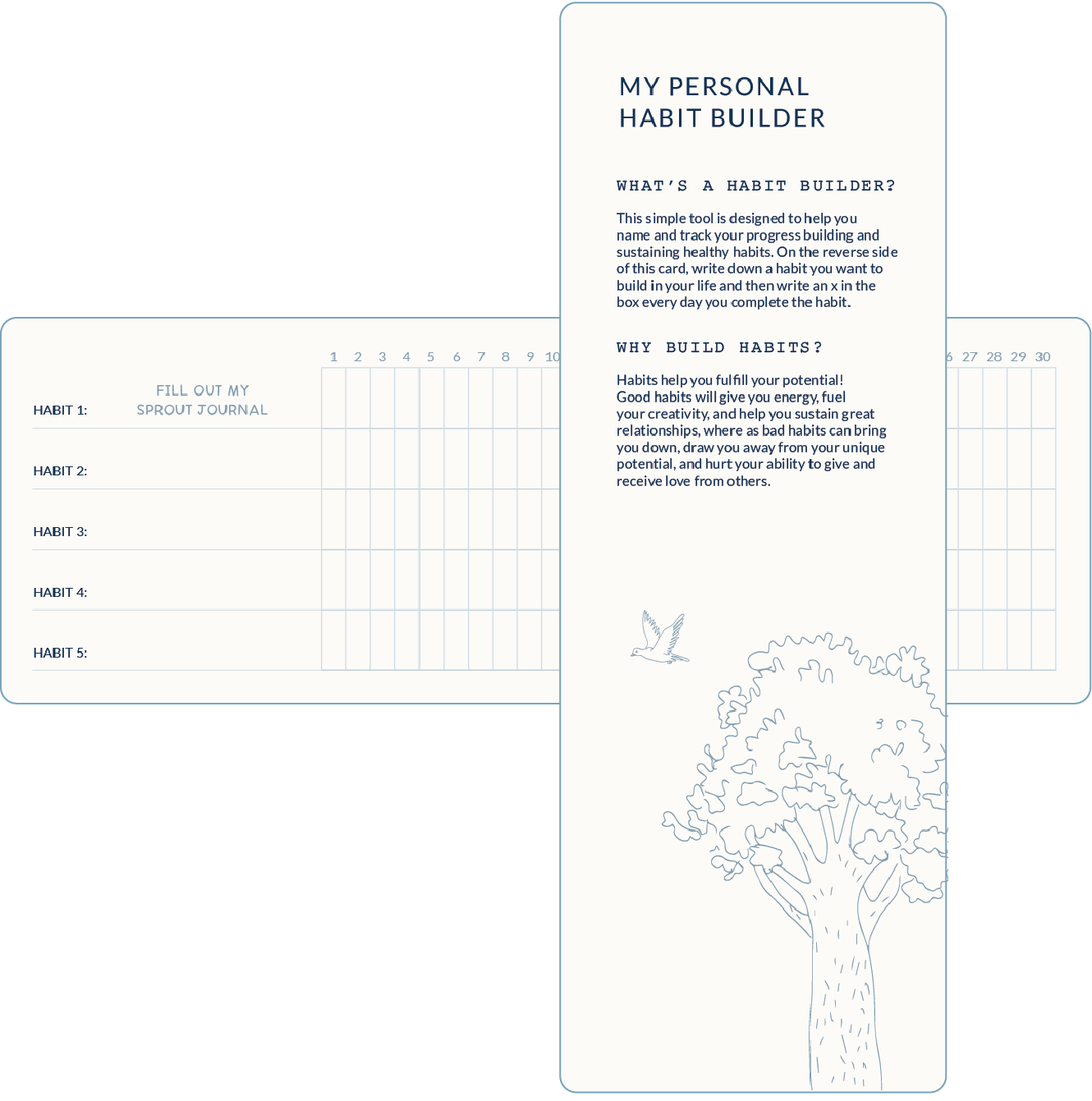 "My 12 year old commented that he loves his nightly Journaling time. He says it helps him feel really calm.
I love that we can do an activity together. He works in his Sprout journal while I reflect in my Monk Manual. Really nice connecting time, which can be hard to come by with a 12 year old son and his mom!"
—Christina W, Ohio
"I have been trying out the Sprout Journal with my second grade classroom. The students were enthusiastic and engaged. They looked forward to the daily reflection time, and it was interesting to see how reflective and complex their thoughts were."
—Missy C, West Virginia
"I really enjoyed the Sprout Journal. My daughter was excited to use it and didn't need much help from me (other than reminders) but I loved being alongside of her as she reflected and sometimes talked to me about what she was thinking or feeling."
—Katy Y
"I enjoy using my imagination in the Creative Space to draw pictures. The questions inspire me to be more creative. I've learned using the Sprout Journal that I can try harder to master obedience, gratitude and other virtues. It helps me to see how much good I can do and put that into practice daily. It helps me think about the future and how I can find new ways to help others."
—Edmond, age 9
"The open space of the daily page and creative space allowed my son to reflect and put some ideas in a central spot throughout the day. As writing is a skill we struggle with he appreciated the option of drawing his ideas vs having to write them out."
—Chris S, Illinois
"I'm a regular Monk Manual user, and so my kids are already familiar with my routine of evening reflection. This journal fit a need I didn't know was there- my kids quickly settled into the routine almost like they had been waiting for it. Some nights it was quiet, and other nights they shared with me their experiences of the day, their hopes for the future, something that had made them laugh or feel sad that day. Building this time for reflection and gratitude into our evenings has been such a blessing!"
—Michelle C, Idaho
"I enjoyed learning about my son's thoughts and ideas (the ones he usually doesn't share) while using the open ended prompts and then just listening."
—Jen C, California
"The sprout journal has brought out a stillness in my 7-year-old daughter. Her two normal speeds are awake and asleep and this habit is giving us something else at the end of each day— the opportunity to reflect and connect."
—Tina M, Pennsylvania
"My daughter found that the journal improved her reflections on the day and made her more grateful. She felt it made the tough parts of the day easier to handle."
—Brent H, South Carolina
"My kids and I love the Sprout Journal, and filling it out together at the end of the day has become our favorite part of the day. I think we have learned a lot about each other through this experience and feel more connected."
—June P, Connecticut
"After just a few days, my son began to show greater compassion and thankfulness towards others."
—Chris B, Texas
"The Sprout Journal helped my son reflect on the day and make a plan for tomorrow. It helped him see that his choices matter."
—Paula R, Colorado
"This is a GREAT product! Both my 12 and 8 year olds really enjoyed engaging with it. My older son has been struggling with anxiety for the last year, and this seemed to help him feel like he had some control over his day."
—Heather L, Tennessee
"The Sprout Journal provided a unique opportunity for my son and I to delve deep into his daily experiences together. It brought us closer together and allowed me to see the world through his eyes on a daily basis."
—Kris K, Virginia
"The words "at my best" and "felt unrest" really got the kids thinking about what they felt in their bodies during the day. It also started discussions on planning different ways to give to others each day."
—Theresa G,
"I wanted to teach my son the power and joy in self-reflection. The Sprout journal has made it a special moment in the day."
—Andrew V,
"I love how the Sprout journal gives me a way to connect with my kids and see what is going on in their lives all at the same time. I also really love the fact that it gives them a way to creatively reflect on their day."
—James S, Illinois
"I like the chance to teach my children how to take a couple of minutes to think about their day and especially to be grateful."
—Christopher L